Dance4Fun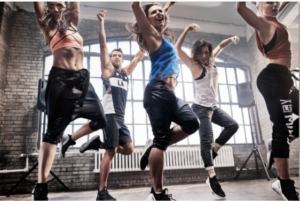 Op zoek naar een nieuwe hobby? Graag de spieren trainen maar geen sporter? Dans graag maar
haalt u er niet genoeg voldoening uit qua sport? Of gewoon opzoek naar een avondje het huis uit
voor plezier en andere mensen ontmoeten?
Doe mee aan onze workshop!
Fun4Dance. Dansen met sport! Of te wel. Zumba! Heerlijke ontspanning door actief te dansen.
Iedereen is welkom!
We zijn een gezellige groep en onze workshops worden begeleid door de enige echte Wendy van
dansschool Wendy's Dance.
Iedere Workshop heeft 15 lessen. Iedere eerste en laatste les doen we een gezellige afsluiting met een
drankje.
Ieder lid kan 1 introduce en 1 familie lid OF alleen familie leden inschrijven voor de
workshop.
Inschrijven: https://evenementen.pvdow.nl/index.php/evenement/1526/Dance4Fun
Looking for a new hobby? Would you like to train your muscles but not an athlete? Happy to dance
but you do not get enough satisfaction from sports? Or just looking for an evening out
for fun and meeting other people?
Join our workshop!
Fun4Dance. Dancing with sports! In other words. Zumba! Wonderful relaxation by active dancing.
Everyone is welcome!
We are a fun group and our workshops are guided by the one and only Wendy van
dance school Wendy's Dance.
Each Workshop has 15 lessons. Every first and last lesson we do a nice end with a
drink.
Each member can register 1 introduce and 1 family member OR only family members for the
workshop.
To sign up: https://evenementen.pvdow.nl/index.php/evenement/1526/Dance4Fun
Agenda
| Titel | Datum | Tijd |
| --- | --- | --- |
| Dance4Fun 1 | 05-09-2022 | 20:15 uur |
| Dance4Fun 1 | 12-09-2022 | 20:15 uur |
| Dance4Fun 1 | 19-09-2022 | 20:15 uur |
| Dance4Fun 1 | 26-09-2022 | 20:15 uur |
| Dance4Fun 1 | 03-10-2022 | 20:15 uur |
| Dance4Fun 1 | 10-10-2022 | 20:15 uur |
| Dance4Fun 1 | 17-10-2022 | 20:15 uur |
| Dance4Fun 1 | 31-10-2022 | 20:15 uur |
| Dance4Fun 1 | 07-11-2022 | 20:15 uur |
| Dance4Fun 1 | 14-11-2022 | 20:15 uur |
| Dance4Fun 1 | 21-11-2022 | 20:15 uur |
| Dance4Fun 1 | 28-11-2022 | 20:15 uur |
| Dance4Fun 1 | 05-12-2022 | 20:15 uur |
| Dance4Fun 1 | 12-12-2022 | 20:15 uur |
| Dance4Fun 1 | 19-12-2022 | 20:15 uur |
| Dance4Fun 2 | 09-01-2023 | 20:15 uur |
| Dance4Fun 2 | 16-01-2023 | 20:15 uur |
| Dance4Fun 2 | 23-01-2023 | 20:15 uur |
| Dance4Fun 2 | 30-01-2023 | 20:15 uur |
| Dance4Fun 2 | 06-02-2023 | 20:15 uur |
| Dance4Fun 2 | 13-02-2023 | 20:15 uur |
| Dance4Fun 2 | 27-02-2023 | 20:15 uur |
| Dance4Fun 2 | 06-03-2023 | 20:15 uur |
| Dance4Fun 2 | 13-03-2023 | 20:15 uur |
| Dance4Fun 2 | 20-03-2023 | 20:15 uur |
| Dance4Fun 2 | 27-03-2023 | 20:15 uur |
| Dance4Fun 2 | 03-04-2023 | 20:15 uur |
| Dance4Fun 2 | 10-04-2023 | 20:15 uur |
| Dance4Fun 2 | 17-04-2023 | 20:15 uur |
| Dance4Fun 2 | 24-04-2023 | 20:15 uur |
Naar overzicht
Website